Program Highlights
3D Bioprinting: can we create the hierarchical structures found in living cells?
Prof Gordon Wallace, University of Wollongong, discusses his reasearch on 3D printing in a podcast ahead of his presentation at IBS 2016. Prof Wallace will deliver his presentation on Monday 24 October. 
How to Optimize Biofuel Production Through Plant Genetics and Alternative Ingredients
Featuing Dr Allan Green, the innovation leader for Bio-Based Products at CSIRO Agriculture & Food; Shanghai Jiao Tong University PhD candidate Juan Xia; and Professor Danilo Porro from the University of Milano-Bicocca in Italy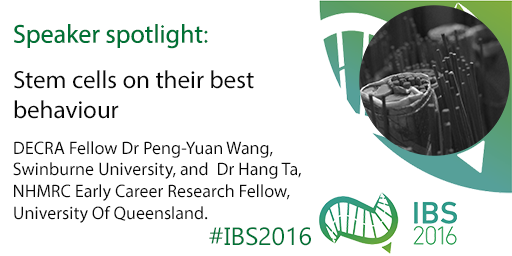 Stem cells on their best behaviour, with DECRA Fellow Dr Peng-Yuan Wang, Swinburne University, and Dr Hang Ta, University of Queensland

A transformation of contemporary medical therapies is promised by stem cell research, offering breakthroughs in replenishing damaged cells in the body. Discover how Dr Wang investigates the surface properties of stem cells and how Dr Ta "homes" stem cells to treat cardiovascular disease. 
Nanostructured biomaterials for tissue regeneration with Prof Laura Cipolla, Milano-Bicocca University
How do researchers design biomaterials to establish key and controlled interactions with cells to induce the body's innate powers of self-repair? 
Biofuel for jet fuel: how bioengineering is transforming modern air travel with Dr Claudia Vickers, University of Queensland
Dr Vickers has developed a number of approaches to better harness isoprenoids, an extremely large and diverse group of natural compounds that potentially transform modern air travel.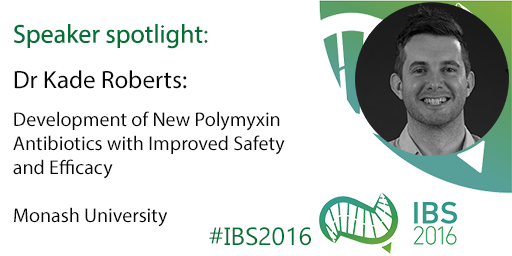 Improving 'last resort' antibiotics: Dr Kade Roberts, Senior Research Scientist, Monash University
Dr Roberts will discuss how he and fellow team members of the Li Lab are developing novel, safer polymyxins for treating dangerous 'super-bugs', which represent a major global health problem. 
Distinguished Prof Margaret Brimble, Chair of Organic Chemistry and Director of Medicinal Chemistry at the University of Auckland
Professor Brimble's lecture will focus of her research – the synthesis of bioactive natural products and the synthesis of peptides, lipopeptides and glycopeptides as potential therapeutic agents.
For those among you who have a particular interest in the intricate science of "making complex molecules," her lecture will be an insight into research conducted in her lab.

Prof Gust to reflect on biotech industry past
When Professorial Fellow Ian Gust decided to enter the field of virology some 50 years ago, the process of product development looked vastly different than it does today.
Prof Gust is just about the best person around to discuss the CSL success story. He was part of the team that helped transform the small, locally focused company with an estimated value of $25 million into a major publically listed company, which is now worth a staggering $40 billion.
.