Improving 'last resort' antibiotics: Dr Kade Roberts, Senior Research Scientist, Monash University
Multi-drug resistant (MDR) gram-negative pathogens represent a major global health problem, exacerbated by the lack of development of new antibiotics.
These pathogens have a range of serious consequences for infected patients, including secondary meningitis, respiratory problems and ventilator-associated pneumonia.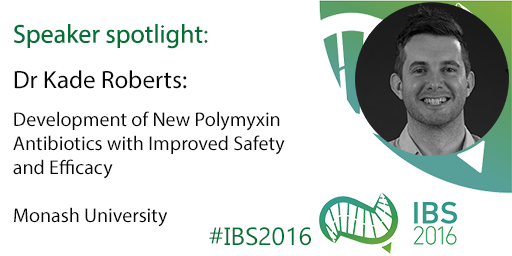 Currently polymyxin B and colistin are used as a 'last-resort' treatment for  these MDR gram-negative 'super-bugs', however these antibiotics have dangerous side effects, namely kidney toxicity.
Dr Kade Roberts, a senior Research Scientist in the Li Lab at Monash University, says there is an urgent need to develop new polymyxins that have improved safety and efficacy.
"There are very limited options available for treating infections caused by these MDR gram-negative 'super-bugs'," says Dr Roberts.
Dr Roberts will discuss how he and fellow team members of the Li Lab are developing novel, safer polymyxins for treating these dangerous 'super-bugs' at the Pharmaceutical, Medical and Molecular Breakout Session, part of IBS 2016.  
The Session will also feature keynote speaker Professor Max Cryle from EMBL Australia, Jin Hu from Tsinghua University, China and Ji Hoon Park from Pusan National University, Korea.
Register for IBS 2016 or view the full IBS 2016 program. 
Image: (L to R) Associate Professor Philip Thompson, Dr Tony Velkov, Professor Jian Li (sitting), Dr Kade Roberts, Professor Roger Nation.